What You Want to Know About the Cannabis Center of Excellence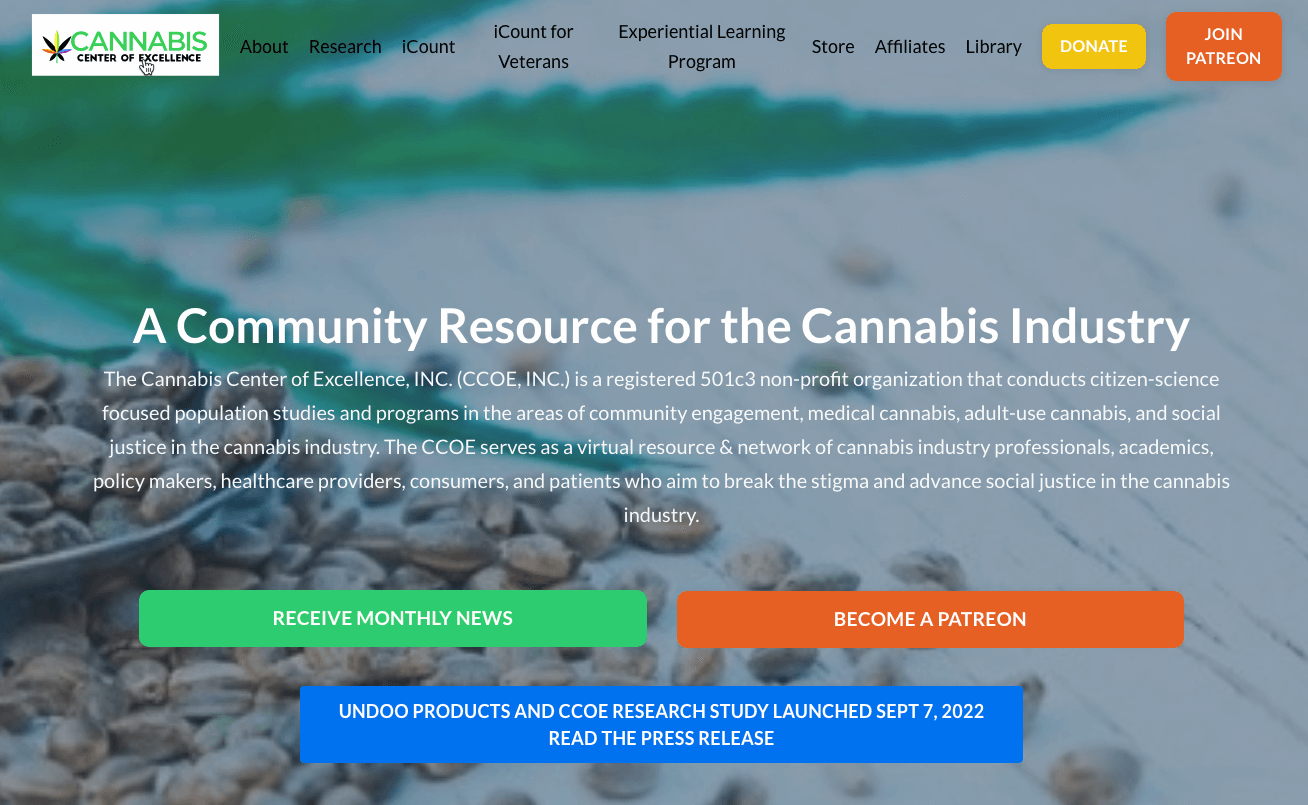 In 2017, The Cannabis Center of Excellence (CCOE) won the first annual Cannabis Ancillary Business start-up competition.
Founded and formed by Dr. McNabb and Randall MacCaffrie, the CCOE was born from the Cannabis Community Care and Research Network (C3RN). Before CCOE's founding, C3RN operated as a cannabis research, education, and advocacy group from 2017-20 in Massachusetts.
What exactly can the CCOE offer us, though? Keep reading.
What is the CCOE and C3RN?
The CCOE is a registered 501c3 non-profit organization in Massachusetts that uses citizen science for population studies and programs involving:
Community engagement
Medical cannabis
Adult-use cannabis
Social justice in the cannabis industry
The CCOE was born out of C3RN. During its time, C3RN was involved in a four-year-running research and education partnership with UMass Dartmouth. C3RN also worked to establish the Cannabis Education Center at Holyoke Community College and, in its four-year-run, was able to:
Advocate for the cannabis research license in Massachusetts
Conduct six cannabis adult-use consumers and patients research studies
Become a Cannabis Control Commission State Social Equity Training Vendor in 2019-20, teaching 11 courses on cannabis retail, business operations and establishment, medical cannabis and municipal process, host community law and agreements, and more
What's so great about the CCOE?
What's so great about the CCOE is its dedication to improving the cannabis industry for everyone involved, from growers and producers to retailers and customers. The CCOE is also unique in its focus on both medical and adult-use cannabis. With its extensive experience in both areas, the CCOE is well-positioned to help the industry grow sustainably and responsibly.
More importantly, it's there to help educate and provide payment for those in Massachusetts negatively affected by the war on drugs through its experiential learning program.
What is CCOE's Massachusetts cannabis experiential learning program?
CCOE's cannabis experiential learning program provides paid training opportunities for those in Massachusetts negatively affected by the war on drugs.
Through CCOE, you can apply to be an apprentice for licensed cannabis businesses. You'll learn through hands-on experience about everything relating to cannabis, including:
Cultivation
Delivery
Lab
Management & Operations
Manufacturing
Retail
Transport
You can learn more about the CCOE by visiting their website here.
Remember to keep an eye out for Dr. McNabb's attendance at an upcoming Medwell Live Event! Make sure you attend this webinar to learn more about the CCOE, its cannabis experiential learning program, and the people who run the place (like Dr. McNabb).
Otherwise, are you looking for your medical marijuana card in Massachusetts? Look no further than Medwell Health and Wellness. Book an appointment today!